Electroforming:

a tremendously accurate additive process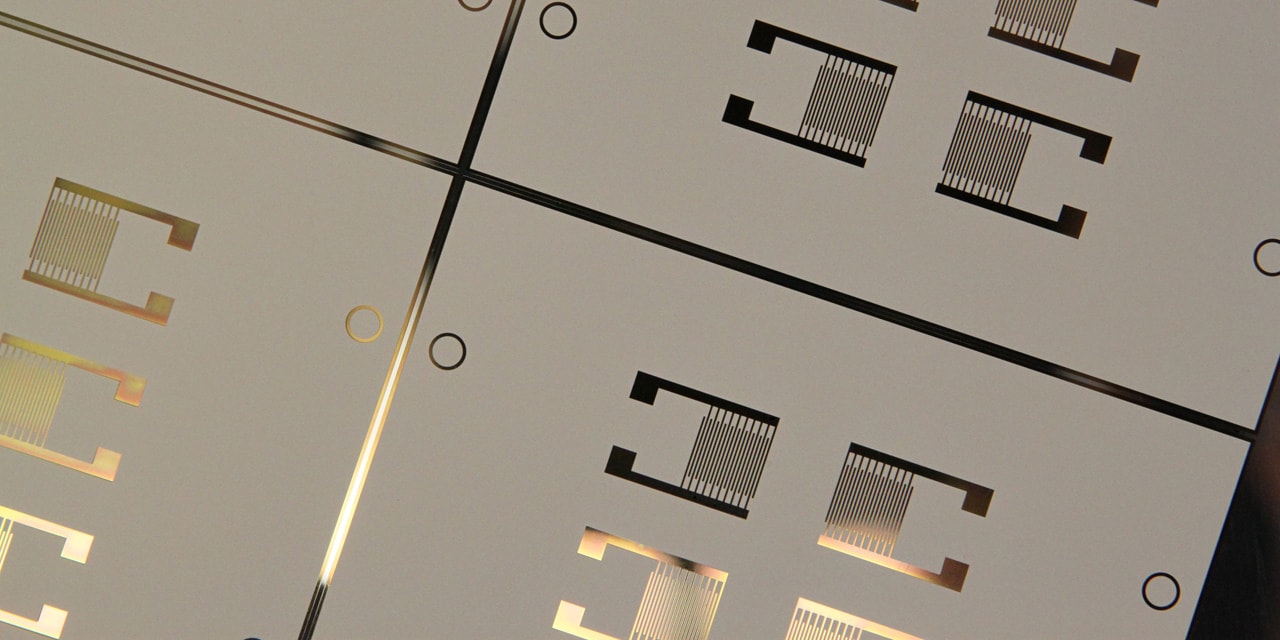 How does electroforming work?
A cleaned mandrel is coated with a photo sensitive material to UV light ➀. The image of the part to manufacture is transferred by insolation on the mandrel through a photo-tool as a mask ➁ ➂ . During the development of the image, the non-exposed areas to be plated are removed ➃. The electrodeposition of metal atoms on the matrix is made by electrolysis to build the parts ➄. Separation from the mandrel of the electroformed product completes the manufacturing process ➅.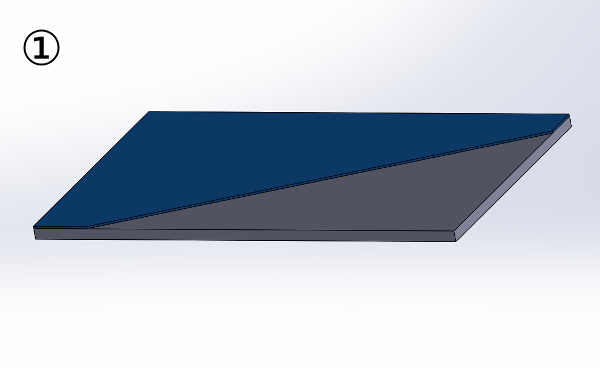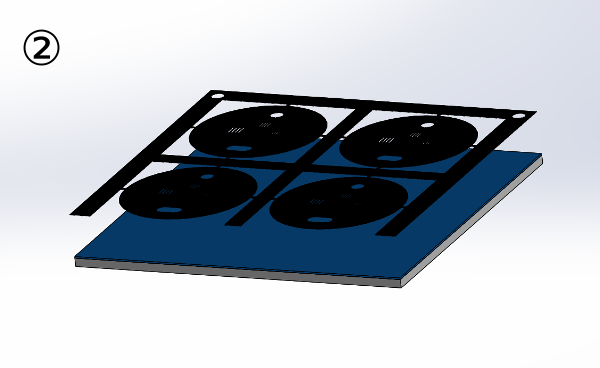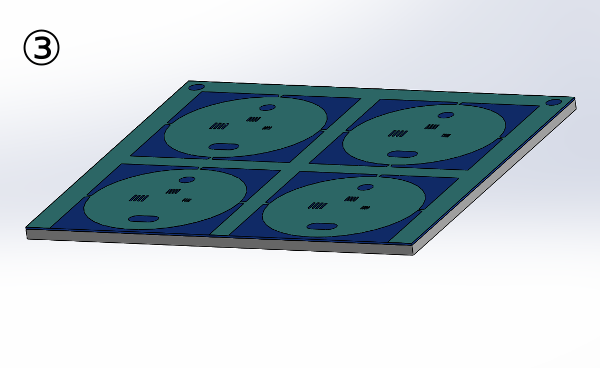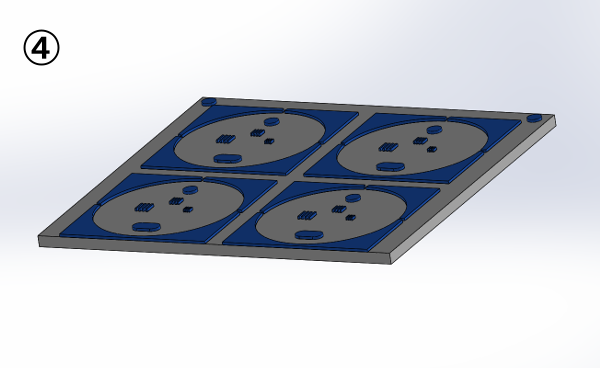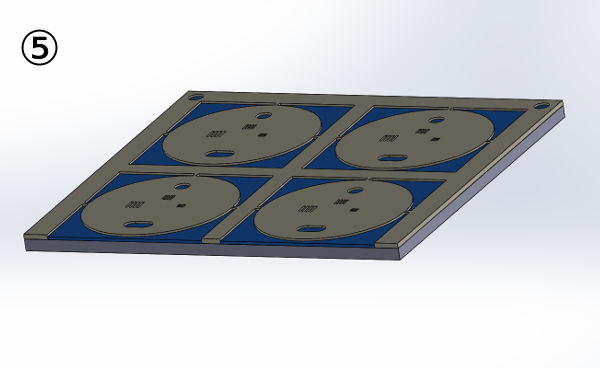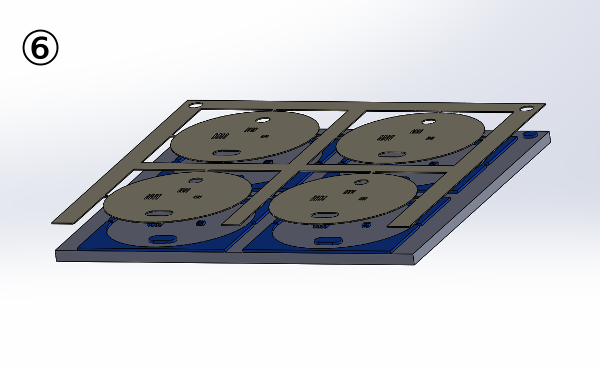 With electroforming unrivalled accuracy can be achieved: close-tolerance of +/- 3 µm with 3 up to 80 µm thickness. It enables to achieve openings narrower than electrodeposition's thickness. For optical applications, we can offer deep black surface treatment on one or both sides of the product.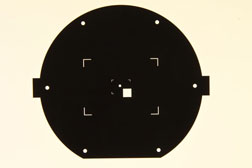 Optical sight
Thickness 50µm
Fence 60µm
One side black
surface treatment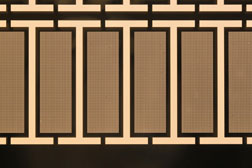 Optical grid
Thickness 25µm
Dam 90µm
Aperture 110µm
One side black
surface treatment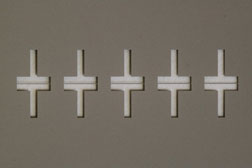 Evaporating mask
Thickness 30µm
Dam 100µm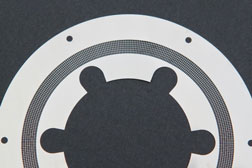 Optical encoder
Thickness 15µm
Dam 70µm
How does electroforming work?
An additive process enables to build the part atom-by-atom which ensures unrivalled micrometric accuracy.

Compatible with extreme complex shape, very narrow dam and very small opening.

A unique technology that guarantees burrs and stress free, no break point and no heat-affected zone (HAZ).

Low tooling cost.

High flexibility in case of design modification.

Short manufacturing time.

A process available for nickel or copper materials and compatible with an optical black surface treatment.
What are the advantages of electroforming compared to alternative processes?
Electroforming and chemical etching compete with alternative cutting processes: laser cutting, stamping, wire EDM and water jet cutting. Some processes are suitable for very thin metal strips and some others for thick metal sheets. Some are best suited for mass production and some for samples or medium quantities. The cutting quality and accuracy depend on the selected process.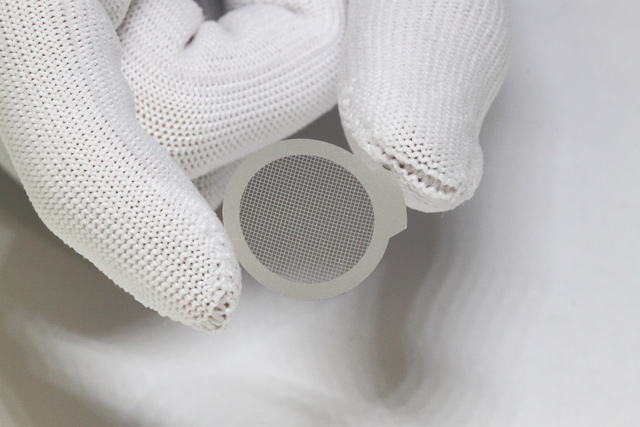 Filter
Thickness 30µm
Dam 100µm
Aperture 400µm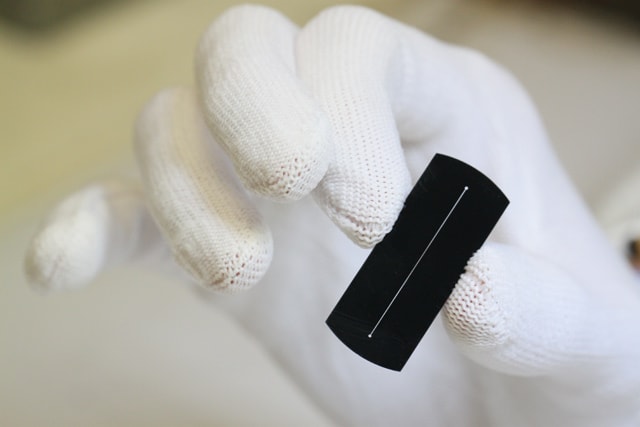 Optical fence
Thickness 110µm
Fence 100µm
Both sides black surface treatment
Electroforming is characterized by an unrivalled accuracy. No other process offers the same high performance: very complex shapes, perfect cutting quality, extreme narrow dams and very small openings.
Quantities
Electroforming
Laser cutting
Stamping
Wire EDM
Water jet cutting
Photo etching
Samples or small quantities

VERY SUITABLE

VERY SUITABLE

NOT ADEQUATE TOO EXPENSIVE

ADEQUATE BUT
DEPENDS ON THE NUMBER
OF OPENING

VERY SUITABLE

VERY SUITABLE

Medium quantities

VERY SUITABLE

ADEQUATE

NOT ADEQUATE TOO EXPENSIVE

ADEQUATE BUT
DEPENDS ON THE NUMBER
OF OPENING

ADEQUATE

VERY SUITABLE

Big quantities

ADEQUATE

NOT ADEQUATE TOO SLOW

VERY SUITABLE

NOT ADEQUATE TOO SLOW

NOT ADEQUATE TOO SLOW

ADEQUATE
Material
Electroforming
Laser cutting
Stamping
Wire EDM
Water jet cutting
Photo etching
Compatibility with thin material

YES

NO

YES

NO

NO

YES

Compatibility with thick material

NO

YES

YES

YES

YES

MEDIUM

Hardness of material

ONLY
NICKEL AND COPPER

COMPATIBLE

NOT ALWAYS
COMPATIBLE

NOT ALWAYS
COMPATIBLE

NOT ALWAYS
COMPATIBLE

COMPATIBLE
| Cutting quality | Electroforming | Laser cutting | Stamping | Wire EDM | Water jet cutting | Photo etching |
| --- | --- | --- | --- | --- | --- | --- |
| Burrs | NONE | WITH | WITH | WITH | WITH | NONE |
| Stress and breaking point | NONE | NONE | WITH | MEDIUM | MEDIUM | NONE |
| Heat-affected zone (HAZ) | NONE | WITH | NONE | WITH | NONE | NONE |
Accuracy and flexibility
Electroforming
Laser cutting
Stamping
Wire EDM
Water jet cutting
Photo etching
Average accuracy (% of the thickness)

+/- 5%

+/- 5%

+/- 10%

+/- 10%

+/- 25%

+/- 10%

Narrow dams

VERY SUITABLE

NOT ADEQUATE TOO SLOW

NOT ADEQUATE TOO SLOW

NOT ADEQUATE TOO SLOW

SUITABLE

VERY SUITABLE

Design changes

EASY

EASY

EXPENSIVE
AND TIME CONSUMING

EASY

EASY

EASY