Photo etching:

a cost effective process, accurate and fast

How does chemical etching work?
During this process, an acid is used to dissolve the unprotected zones of the metal sheet in order to create a part with the expected shape. There are several stages: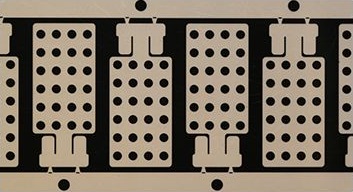 Photo-tool
Prior to the process, a photo-tool is prepared. It is a transparent film on which the negative and accurate image of the part to manufacture is applied. Once it has been created, photo-tool can be used many times.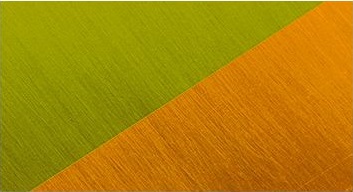 Surface preparation and coating
The metal sheet is first cleaned and a surface preparation is done (right side of the picture). It is then coated with a photo sensitive material (left side of the picture).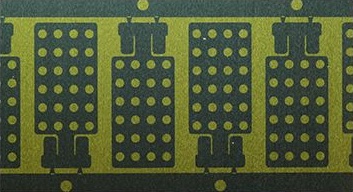 Insolation
The image of the part to manufacture is transferred by insolation through the photo-tool as a mask.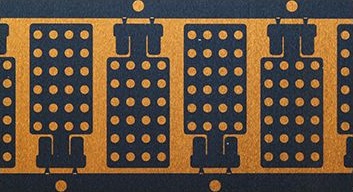 Developpement
The development enables to wash away the photo sensitive coating that was protected from the insolation light by the non-transparent areas of the photo-tool, revealing the raw metal. Conversely, the photo sensitive coating exposed by light through the transparent areas of the photo-tool remains and protects the base material underneath.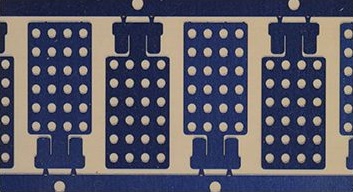 Chemical etching
Chemical etching is performed on unprotected raw material, thus enabling to remove the metal all around the part and at its opening.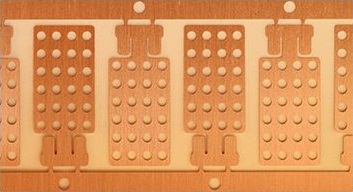 Stripping
Protective coating is then removed by stripping to get the completed part.
Chemical etching guarantees burrs and stress free, no breaking point and no heat-affected zone (HAZ). The internal structure of the material remains unchanged even at the cutting edge. This process, compatible with a wide range of materials, is particularly suitable for hard metal that is difficult to machine or for very thin parts.
MECACHIMIQUE works with most of the metals and alloys in a thickness range from 0,01 up to 2 mm. Accuracy depends on the material and is proportional to its thickness.
Etching enables to manufacture many different types of shapes. There is almost no limitation. And with partial etching the surface of the material can be engraved. Due to high versatility, combined with low cost and advantageous technical performances, chemical etching provides appropriate solutions for many types of applications.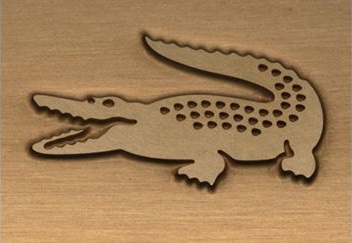 READ MORE ABOUT AREAS OF APPLICATIONS
CHEMICAL ETCHING PROCESS VIDEO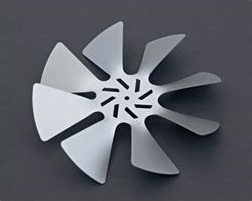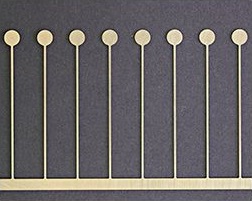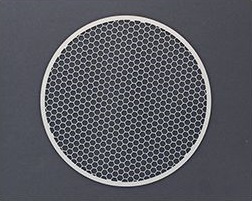 Why to choose Photo etching?
An accurate process, cost effective, even for very complex shapes and tight tolerances.

A unique technology that guarantees burrs and stress free, no break point and no heat-affected zone (HAZ).

Unchanged characteristics of the material such as mechanical, electrical, and magnetic properties.

Low tooling cost compared to conventional manufacturing processes

High flexibility in case of design modification

Quick start up with a short lead time from samples to series

Wide range of metals, available in stock.
What are the advantages of chemical etching compared to alternative processes?
Chemical etching competes with alternative cutting processes: laser cutting, stamping, electroforming (also offered by MECACHIMIQUE), wire EDM and water jet cutting. Some processes are suitable for very thin metal strips and some others for thick metal sheets. Some are best suited for mass production and some for samples or medium quantities. The cutting quality and accuracy depend on the selected process.
Chemical etching is characterized by a perfect cutting quality: no burr, no breaking point, no burn. The following pictures are a comparison between the cutting edge quality of chemical etching and fiber laser cutting and show the very good results achieved by chemical etching.
Brass thickness 1 mm
| | |
| --- | --- |
| Chemical etching | Fiber laser cutting |
| | |
| | |
Stainless steel thickness 1mm
| | |
| --- | --- |
| Chemical etching | Fiber laser cutting |
| | |
| | |
In order to help you choose the best process to answer your needs, we have created a table comparing the advantages and disadvantages of each technique according to four criterias: quantities to manufacture, metal thickness, requested cutting quality and accuracy. In addition to a very high cutting quality, chemical milling offers a very good accuracy on thin metal parts and a high versatility for samples or series.
Quantities
Photo etching
Laser cutting
Stamping
Wire EDM
Water jet cutting
Electroforming
Samples or small quantities

VERY SUITABLE

VERY SUITABLE

NOT ADEQUATE TOO EXPENSIVE

ADEQUATE BUT
DEPENDS ON THE NUMBER
OF OPENING

VERY SUITABLE

VERY SUITABLE

Medium quantities

VERY SUITABLE

ADEQUATE

NOT ADEQUATE TOO EXPENSIVE

ADEQUATE BUT
DEPENDS ON THE NUMBER
OF OPENING

ADEQUATE

VERY SUITABLE

Big quantities

ADEQUATE

NOT ADEQUATE TOO SLOW

VERY SUITABLE

NOT ADEQUATE TOO SLOW

NOT ADEQUATE TOO SLOW

ADEQUATE
Materiel
Photo etching
Laser cutting
Stamping
Wire EDM
Water jet cutting
Electroforming
Compatibility with thin material

YES

NO

YES

NO

NO

YES

Compatibility with thick material

MEDIUM

YES

YES

YES

YES

NO

Hardness of material

COMPATIBLE

COMPATIBLE

NOT ALWAYS
COMPATIBLE

NOT ALWAYS
COMPATIBLE

NOT ALWAYS
COMPATIBLE

ONLY
NICKEL AND COPPER
| Cutting quality | Photo etching | Laser cutting | Stamping | Wire EDM | Water jet cutting | Electroforming |
| --- | --- | --- | --- | --- | --- | --- |
| Burrs | NONE | WITH | WITH | WITH | WITH | NONE |
| Stress and breaking point | NONE | NONE | WITH | MEDIUM | MEDIUM | NONE |
| Heat-affected zone (HAZ) | NONE | WITH | NONE | WITH | NONE | NONE |
Accuracy and flexibility
Photo etching
Laser cutting
Stamping
Wire EDM
Water jet cutting
Electroforming
Average accuracy (% of the thickness)

+/- 10%

+/- 5%

+/- 10%

+/- 10%

+/- 25%

+/- 5%

Narrow dams

VERY SUITABLE

NOT ADEQUATE TOO SLOW

NOT ADEQUATE TOO SLOW

NOT ADEQUATE TOO SLOW

SUITABLE

VERY SUITABLE

Design changes

EASY

EASY

EXPENSIVE
AND TIME CONSUMING

EASY

EASY

EASY